Natural - Quality - Value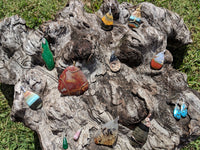 Natural Stone Cabochon Pendants
Choose from a selection of natural stone cabochons hand crafted, using stone material sourced from around the world to create these stylish and unique pendants and earrings, adorned with solid sterling silver- you're sure to stand out from the crowd.
Just one of our customers comments - see our other testimonials in the Quick Links below
Elsie - "can I just say that I absolutely love these pieces 😍 A very happy customer indeed. I have had so many comments on my mini reef pendent. It is just stunning."
100% Natural & Handmade Jewellery In Australia
For centuries, many cultures have used natural gemstones to manifest harmony, healing, balance, intuition, and prosperity. At Earth Inspired Creations, we aim to create exquisite handmade jewellery which include Handmade Earning also that brings you closer to nature – and to the life you want to live.
We believe that every natural stone is unique – no two have the same energy or tell the same story. We carefully curate each piece in our collection to suit a multitude of personalities and desires.
We carry a generous range of Australian-made jewellery for all occasions. Whether you're a firm believer in the impact of vibrations or simply love how our creations look, we have something for you.
What Makes Hand-Crafted Gemstone Jewellery In Australia So Unique?
They Are One-Of-A-Kind
When you shop with Earth Inspired Creations, no two pieces are the same. We hand-pick and curate distinct designs that are exclusive to the wearer.
We hand-make pieces of australian agate with your intentions in mind. Because we take the time to bring each client's piece to perfection, you end up with something more meaningful than a mass-produced product. 
We use mechanical assistance like machines, rock saws, cabbing machines, faceting machines and dremels, allowing us to give each piece the dedication, care, and attention it deserves. 
They Are Environmentally Friendly
At Earth Inspired Creations, it is our duty to satisfy our customers' needs while maintaining a sustainable relationship with nature. 
Manufacturers that mass-produce their products produce a significant carbon footprint and negatively affect the surrounding environment. Our methods of production are much more climate-conscious, requiring significantly less energy and using responsibly sourced materials. 
They Give Back To The Local Community
By sourcing local products, you help support the local economy. We have a diverse range of artisans that, with their talent, give a unique look to the jewelleries. 
As more customers do business with us, it creates new opportunities for us to hire local talents and giving back to the community. 
They Are Made With High-Quality Materials
We hand-craft our jewellery because we want to give our customers the best. Unlike mass-produced products, we have much better quality control – you don't have to worry about "dirty" or fake blends.
Plus, each of our artisans is a skilled and seasoned master of their craft. Thanks to years of training and experience, we can ensure that your piece is a clean and genuine work of art. 
They Make Excellent Value For Money
At Earth Inspired Creations, we want our customers to feel they are getting the best possible value for their money. We take the time to study the significance behind each stone so that you can reap the energetic rewards tenfold – creating longer-lasting satisfaction for every client.
A Closer Look At Our Australian-Made Jewellery
Stunning, Moon-Inspired Silver Pieces
Our silver jewellery in Australia is a mirror to the soul, allowing its wearer to see themselves as others do. Because silver impacts the mind as a conductor and communicator, we hope for our unique silver products to draw negative energy out and positive energy in.
Our stunning silver pieces represent anything from hope to unconditional love and kindness to sensitivity. Plus, if you are looking for something long-lasting and easy to maintain, our silver pieces are highly durable. 
Energy-Enhancing Moonstone Pieces
Moonstone jewellery in Australia is a crystal mineral that, you guessed it, harvests the energy of the moon. Our moonstone pieces promote healing and balance while reminding their wearer that life isn't stagnant or consistent – it tends to ebb and flow. 
When not wearing their moonstone jewellery, we encourage wearers to keep their pieces near their bed to invite receptivity. Placing your moonstone piece in your workspace also promotes creativity.
Earth-Centric Bohemian Pieces
"Bohemian jewellery in Australia" is more than just a fashion statement. Our nature-themed jewellery incorporates natural elements that help wearers reconnect with the earth. 
When wearing our bohemian jewellery, we want customers to feel more in touch with their identities by bringing them closer to nature. We create highly personal pieces by layering eclectic materials like natural stones for a cutting-edge look. 
Healing-Energised Crystal Pieces
For centuries, crystals have been famed for their medicinal and healing properties, especially as it applies to your spiritual being. Even today, the meaning behind many crystal pieces are based on Buddhist and Hindu philosophies – our crystal jewellery in Australia encourages wearers to engage in mindfulness, self-awareness, and constant reflection.
Why Choose Earth Inspired Creations?
We Ethically Source Our Materials
Contrary to popular belief, artisans are not just "choosy" or "snobby" for no reason. We are extremely selective with our materials because we value quality and sustainability. 
Whenever possible, we collaborate with local refiners and suppliers to create the best possible products. We are not willing to make any compromises in the crafting process because that's what our customers deserve!
We Prioritise Customer Satisfaction
Our loyal customers keep coming back because of our exceptional customer service. Yes, we produce and ship our products out fast, but that's not all – we ensure that you make informed decisions before purchasing custom pieces. 
We provide a ton of information about each stone that we use in our work. We also value conversations with our loyal customers and love to hear feedback!
We Love What We Do We're dedicated to this craft because we love what we do. Our passion for crafting high-quality jewellery translates to gorgeous, unique, and meaningful pieces. One look at our work, and you'll see the level of love, care, and craftsmanship that goes into each and every product.
Get The Best Of Beautiful, Natural, & Handcrafted Jewellery In Australia
Earth Inspired Creations is 100% ethically sourced and unique. Each piece is carefully curated and created for the wearer – no two pieces are ever exactly the same!
Plus, while our jewellery is definitely an amazing fashion statement, they're more than that. Wearing custom Earth Inspired Creations encourage you to manifest positive energy and take active steps towards your ideal life. 
If you're a fan of creativity and nature, you'll appreciate the expert craftsmanship behind our handmade jewellery. Get your own artisanal gemstone jewellery from one of the best jewellery shops in Australia – Earth Inspired Creations!

Natural Stone Jewellery: Embrace the Beauty of Nature
For centuries, natural stones and gemstones have been used to bring harmony, balance and prosperity. Natural stones are said to have a strong healing power that ultimately encourages health and wellbeing.
Our team has carefully selected some of the most enchanting natural stones to create Australian stone jewellery. Each stone has a different vibration that will bring you closer to nature. Each natural stone piece in our collection has been designed and set to be graceful, appealing and perfect for all personalities.
Vibrate Higher and Feel Emotions in Their Truest Essence
Explore our website to find various types of natural stone jewellery and what suits your style best. We carry a wide range of Australian stone jewellery that will encourage you to improve your life in various ways.
We carry distinctive designs that are perfect for various occasions and people with different personalities. For example, our chakra collection is crafted for those who are a firm believer of meditation and the impact of vibrations on their everyday lives.
Gone are the days when only common stones like sapphire, ruby or emerald were available. Take a look at our website for a collection of natural stones with astrological significance.
Beautiful, Unique and Pure
Available in a myriad of shapes, sizes, textures and colours, natural stones in Australia are celebrated for their unique qualities. Natural stones are used for their aesthetic diversity and are irreplaceable because their distinct patterns cannot be imitated or copied due to their unique texture and natural elements.
Considering the uniqueness of each stone, we have carefully incorporated them in various natural stone jewellery. Our collection comprises of significant natural stones like Jade,moonstone, amethyst, crystal, K2 stone, Tourmaline,rhodonite, hematite and plenty more. When you understand the significance of each of these stones, it will be easy for you to choose one that suits you and your needs. Whether you want to buy natural stone jewellery to make a fashion statement or you are drawn towards its spiritual vibrations, you can find your right match on our website.
We are passionate about creating beautiful natural Lapis Lazuli jewellery in Australia. Let us help you heal and feel your purest form of emotions with our finely crafted natural stone jewellery.
Cabochon Pendants

Choose your stone and Solid Sterling Sliver Bail
Raw slabbed stone

Select from slabs or display stone
Unique natural stone

Choose your favourite stone
Agate Silver Stud Ear Rings

These are rough natural stones and no two are the same
Rough Gemstones from around the world

Select your facet, cab or specimen grade gemstones
Rough Gemstones

Select from rough gemstones
Cabochon Pendants
Choose your stone and Solid Sterling Sliver Bail
Raw slabbed stone
Select from slabs or display stone
Unique natural stone
Choose your favourite stone
Agate Silver Stud Ear Rings
These are rough natural stones and no two are the same
Rough Gemstones from around the world
Select your facet, cab or specimen grade gemstones
Rough Gemstones
Select from rough gemstones