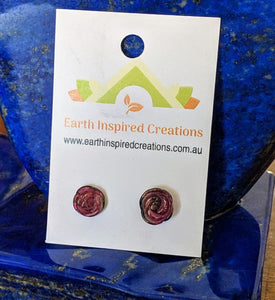 Tourmaline is the most colourful of all gemstones. It occurs in all colours, with pink, red, green, blue and multicolored being its most well-known colours.
These tourmaline gemstones have been hand carved or left as a natural crystal and finished with sterling silver findings.  They arrive to you in a beautiful velvet gift box as pictured.
Why not get yourself a matching Tourmaline Pendant by clicking here.
Our Tourmaline cyrstals come from the mines of Paprok and Kunar in Afghanistan which are noted for producing some of the best quality tourmaline gems in the world and are found in all colours.
Tourmaline Pendants is growing in popularity in jewellery due to it's gemmy qualities and is relatively affordable pricing.  But beware, as this gemstones popularity has also made it a target for imitators who create with glass, quartz and various methods of colour enhancing treatments to try and sell fake tourmaline as the real thing.  The cheap price they offer will be a good first indication that something is not right.
Tourmaline has a natural crystal trigonal shape (3 main sides), with vertical growth lines that run the length of the crystal.  If you are buying faceted gems it will be almost impossible to determine natural from fake of man created unless you get it tested by a qualified and reputable gemmological laboratory.
Earth Inspired Creations prefers the natural shapes and colours of mother nature, which is why most of our gemstone jewellery is not faceted, but shows off its natural shape and colour in simple designs that showcase the stone itself.  They certainly are a unique and wonderful addition to your Crystal Jewellery Australia.