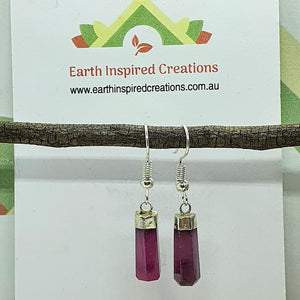 These stunning natural Ruby Crystal earrings are fitted with solid sterling silver, ensuring many years of quality and enjoyment.
They are 100% natural, unheated and untreated rubies straight from the ground in the mines of Pakistan.
Ruby is of the corundum family of mineral and has a hardness of 9.  This very hard stone is tough and durable and will last for generations to come.
As these are natural rubies and have not be treated or enhanced in anyway, slight variations from stone to stone is normal.  Each stone will be approximately 10-15mm long.
Rubies, the birthstone of July, are considered the king of gems and represent love, health and wisdom.  It was believed wearing a fine red Ruby bestowed good fortune on its owner.  A ruby is the most valuable gemstone and its value increases based on its colour and quality.  They certainly are a unique and wonderful addition to your Crystal Jewellery Australia.