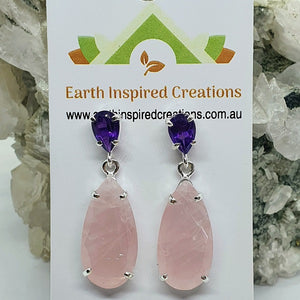 Amethyst has healing powers to help with physical ailments, emotional issues, and in Energy Healing and Chakra balancing.
Rose Quartz is the stone of universal love.  It restores trust and harmony, encouraging unconditional love.  Rose Quartz opens and purifies the heart to promote love, self-love, inner healing and feelings of peace.
These Crystal Jewellery Australia Earrings are handmade.
These stunning Amethyst and Rose Quartz Gemstones have been set with solid 925 sterling silver, ensuring many years of quality and enjoyment.
Approximate dimensions
Length/Drop:  34mm
Width:  12mm
Weight:  9.90grams