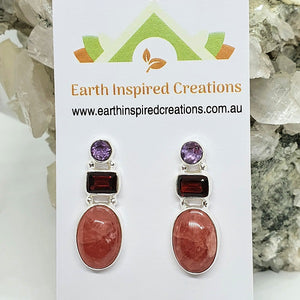 Rhodochrosite has an undeniable allure with it's gemmy raspberry and pink colours and banding.  Rhodochrosite is a marvelous talisman of joy and healing, of embracing one's rightful powers and rising to full potential.
Rhodochrosite is found in Argentina, South Africa, Peru, Montana, Colorado, Russia, Romania, Gabon, Mexico, and Japan.
Rhodochrosite is a rare gemstone which is highly sought after by collectors worldwide.  This Rhodochrosite set in solid sterling silver accented with amethyst and garnet.
These Earrings are:
Length: 29mm
Width: 10mm