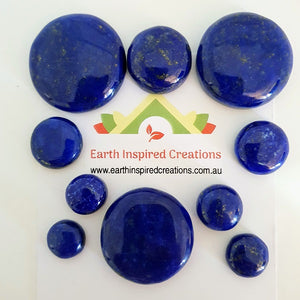 These stunning vivid blue cabochons are made from natural untreated Lapis Lazuli stone from Afghanistan.  These cabochons are very high grade material.
It encourages self-awareness, allows self-expression and reveals inner truth, providing qualities of honesty, compassion and morality to the personality. Stimulates objectivity, clarity and encourages creativity. Lapis Lazuli assists to confront and speak one's truth and inspires confidence.
We have sizes from 10mm up to 40mm.  Just select the size and quantity you would like.  If we are out of stock on a certain size let us know by sending a message or email.  When we make cabochons, we run batches to keep the process less time consuming.