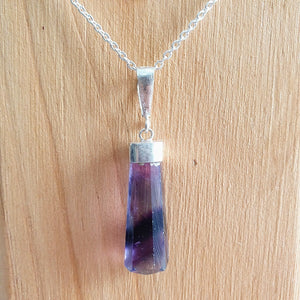 Fluorite supports spirituality and thought, focus and concentration as well as balance in all aspects of one's life.  The fluorite crystal meaning can be used as a power source that magnifies everything around it, including other gemstones.
These natural fluorite crystal points are set with solid sterling silver Pendants and are approximately 2-4cms in length, ranging from a nice teal blueish green, to multi coloured, to deep rich royal purple.  They certainly are a unique and wonderful addition to your Crystal Jewellery Australia.
Why not choose a Necklace to go with your pendant by clicking here.