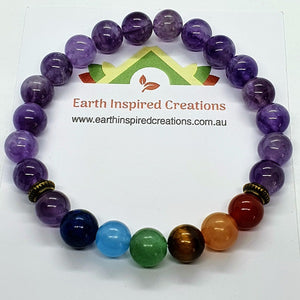 Amethyst is one of the most prominent crystals of the quartz family because of its beautiful colouration.
Amethyst is a powerful protective stone.  It guards from psychic attack, transmuting energy into love and protecting the wearer from all types of harm.  Amethyst is a natural tranquiliser as it relieves stress, soothes irritability and balances mood swings.
18cm inside circumference fully closed, 24cm inside circumference fully opened.  Loosely wrap a string around your wrist, then lay the measured amount along a ruler to check length sizing. Discover the latest Bohemian Jewellery Australia online at Earth Inspired Creations.


Amethyst, Lapis Lazuli, Blue Aventurine, Green Aventurine, Tigers Eye, Orange Aventurine, and Carnelian Agate.